I guess I'm setting a record for quarterly updates here, but since my last post in November we've been working like crazy to move to Alabama! Here's my wife, Tina, and our little girl, Ellie, with our newly acquired donkey that Ellie named, Buddy.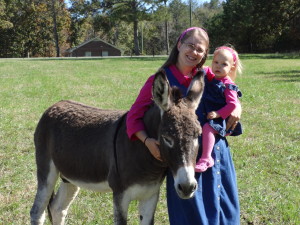 We closed on the farm at the end of October and it took us into December to take 13 stock trailer loads of farm supplies, equipment, tools and supplies. In that same time, some new friends, T.D. and Chip, hauled our Ford tractor and another load of stuff to Alabama for us. From early December to early January, my Dad, and I drove to Pike Road three to five times a week working on the red hay barn on the property. It needed a lot of cleanup and remodeling to get it ready for our Jersey cows and laying chickens. We installed a chlorine filter on the water line coming from the road to the house, and ran a water line from this filter to the hay barn. And finally, just last week, we hauled our family's belongings in the cow trailer, and now 6,000 miles of driving later my wife, two children, and I are full time in Alabama!
It's been an adventure already, from shooting at (yes, at…) a coyote the first day on the farm, to milking by flashlight, stumbling over boxes (boxes are everywhere!), trying to remember to stop and eat, and working on the business end – contacting possible customers, printing things (first we had to find the printer and set it up), cleaning up the store, and setting out product.
Here's our humble milking stanchion in the hay barn: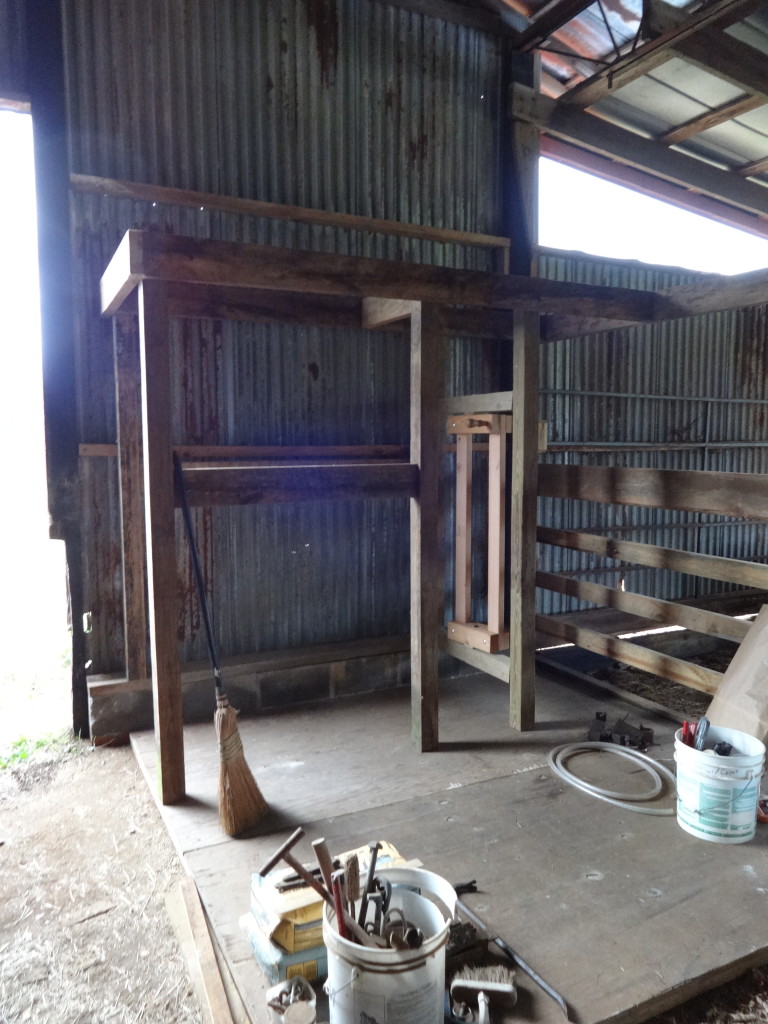 Our little family is having a blast with all the crazy challenges and new beginnings. We waited for over two years to close on this piece of property and start this new chapter in our lives, and it's already better than we thought! Here's a few pictures from Thanksgiving when we did stop for some fun with the extended family:
And one more group of pictures. This is the four of us milking Beulah for the first time and then two days later when we headed out to milk in the snow flurries!