No, I'm not a collector, but I did spend $407.44 on a crosscut saw that was given to me (for free). Let me explain, because I've got a really nice Husqvarna chainsaw from my woodturning days so what in the world do I need a crosscut saw for?
As we contemplate what sustainability really means on our farm, I've been exploring the world of antique hand tools which has been a hobby of mine for years anyway. I've got hand planes and hand drills, braces and bits that I have used to build a little furniture for my wife and now, I'm gradually expanding into a few tools that I use around the farm.
Here's a few of the tools I've collected over the years, in a tool chest I built to house them.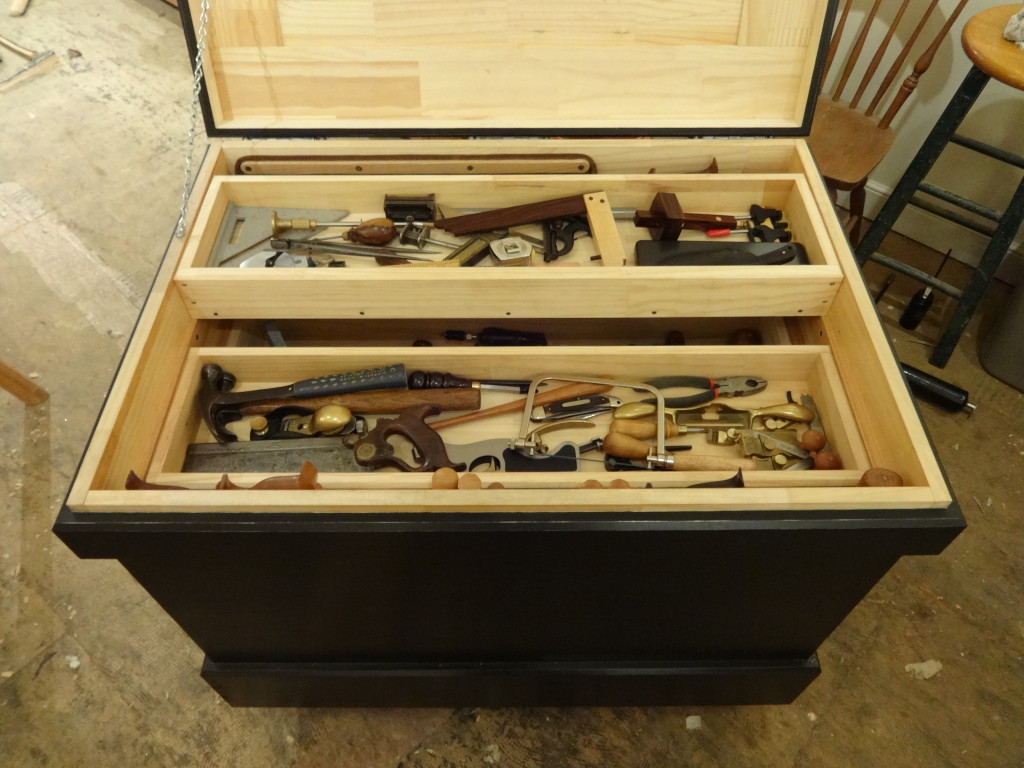 I've been working on a cherry tree carving spreaders (did you see that post?) and I've used a little hand saw for cutting up the limbs. Here's a picture of the tree.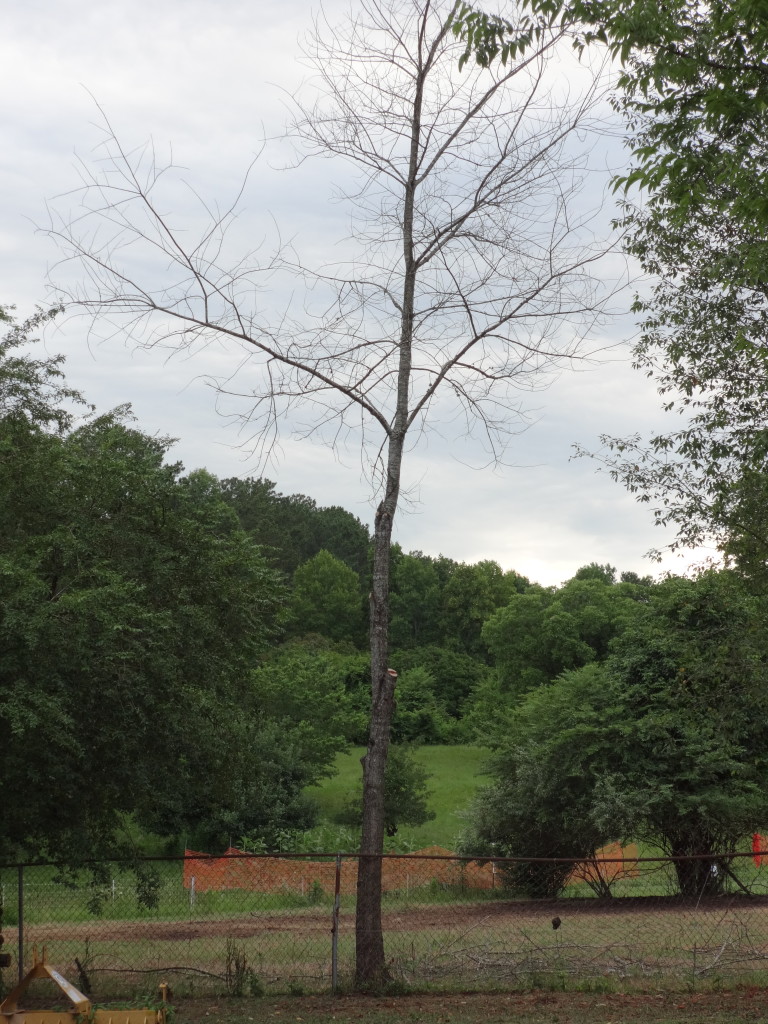 It died last winter and needed to come down, so I've been knocking two birds out with one stone as they say, converting a dead tree into useful spreaders. But as I approached the larger trunk of the tree I had two options: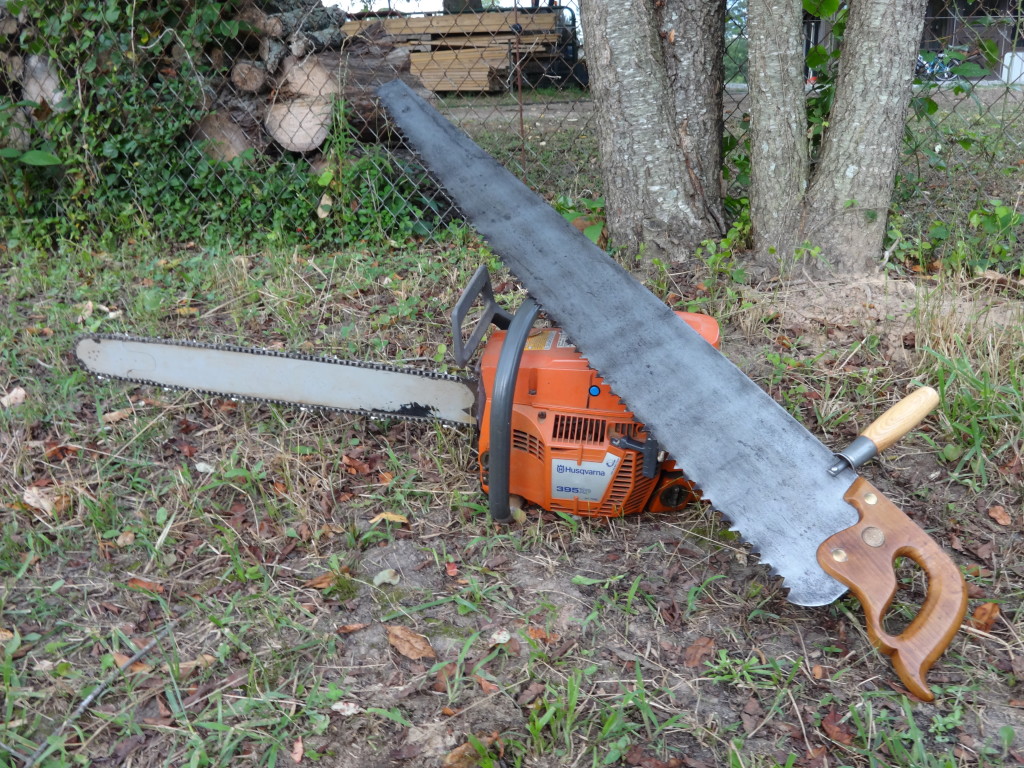 This is conflicting to me, philosophically. The chainsaw was expensive, but it's been paid for years ago and will last many years to come with a little care. And the chainsaw is fast, extremely fast. I could have cut up that cherry tree in a half hour. The chainsaw is versatile too; it can cut the smallest of limbs as well as the biggest of stumps. And I've been using a chainsaw for fifteen years, so I know how to use one, I know how to sharpen one, etc. But it runs on petroleum which quite simply isn't sustainable. I can't produce gasoline and mix oil myself and the world manages to stay in a state of warfare over it so, I thought it would be nice to use a crosscut saw.
That hand saw? An older gentleman I used to work for gave it too me; it was his father's so, it's over 100 years old. The saw was covered in rust, the handle had a few cracks, and it was missing the helper handle. I spent 3-4 hours sanding rust and restoring the handle and brass nuts. Then came the expensive part. Have you seen helper handles and sharpening equipment for this kind of saw at the hardware store down the street? Well, the hardware stores are gone, so now it's Lowes and Home Depot and I don't think they ever carried hand saw maintenance tools. So I turned to the Internet and found the Crosscut Saw Company out of Seneca Falls, NY. Come to find out, there are still a few guys that use these saws clearing trails in the National Parks and the like out West. So by the time I bought the helper handles, the manual on sharpening, the saw files, the jigs for filing, the peening hammer and anvil, well, I'm over four hundred dollars into this thing.
Here's a shot of some of the tools I needed to maintain this saw: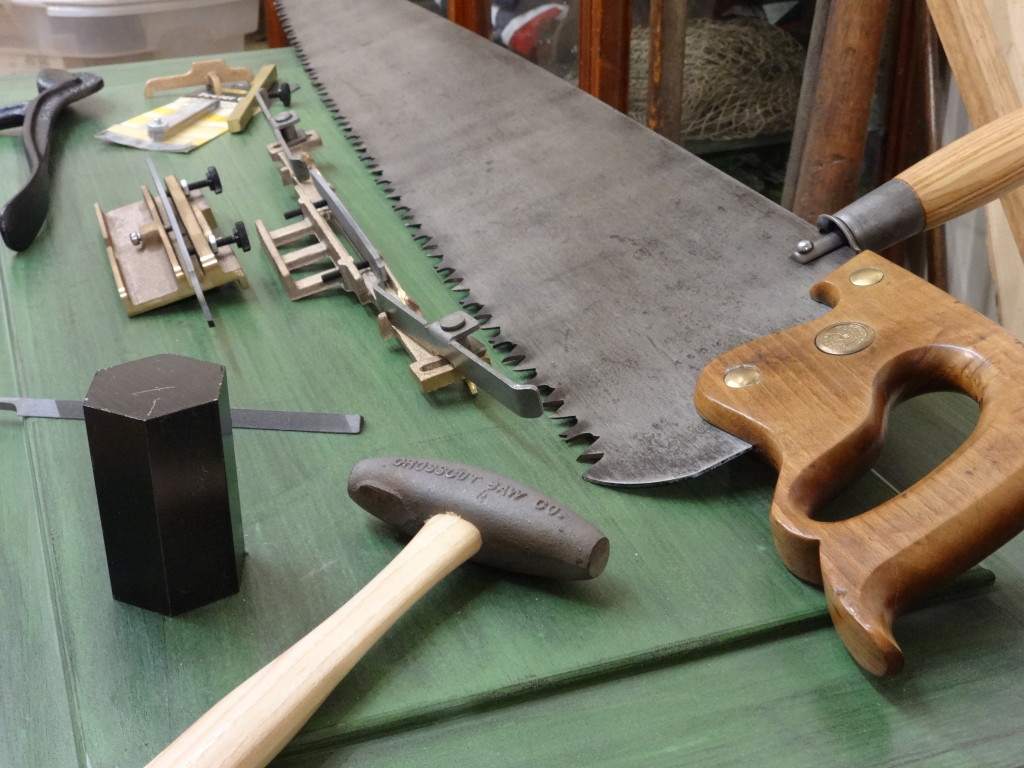 And my predicament with the cherry tree gets worse. I've restored the crosscut saw, but I haven't learned how to sharpen it yet. It's not rocket science, but it does take some learning to joint all the teeth to the same height, then to swage the rakers and actually sharpen the teeth. So that's on the list, but I haven't gotten to it. And I kind of know how to use it, but I have no real experience with it like I do my chainsaw.
If that wasn't enough obstacles to cloud my decision, a one man crosscut saw works for stuff down to about 5″ in diameter, but it doesn't cut small limbs very well. So now I needed an axe. I don't remember what I paid for this axe, but add that to the list of how expensive it was to cut down a tree "sustainably."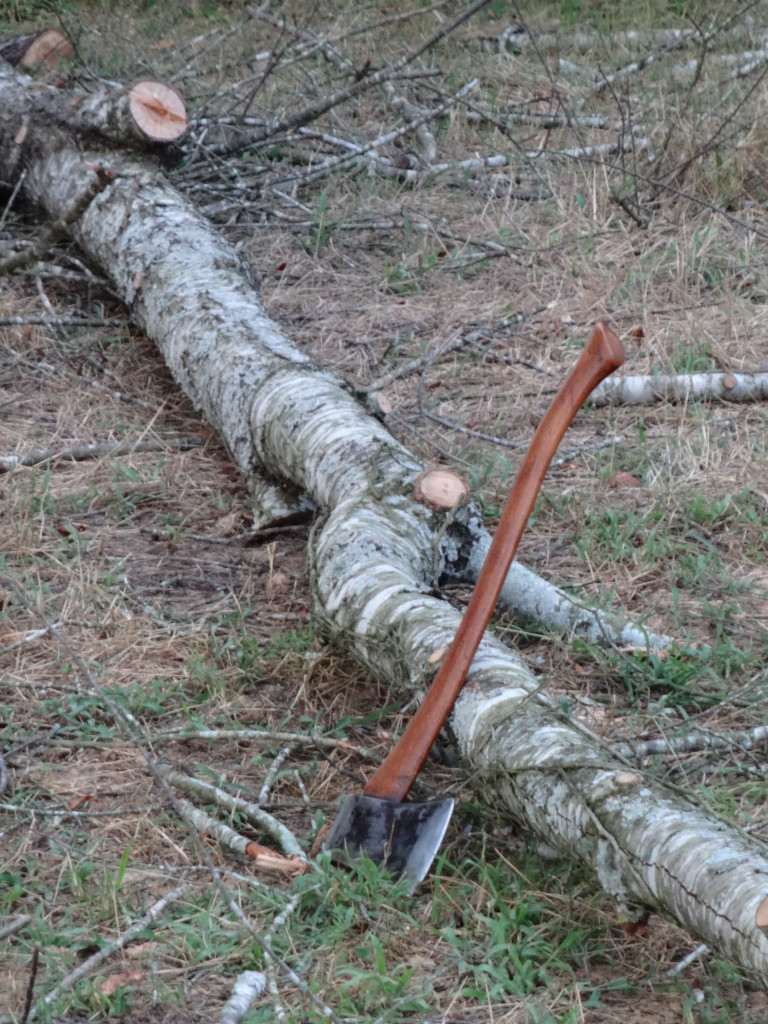 As I contemplated which tool to use to cut up that cherry tree, I figured, I'm making the spreaders by hand, but I don't have time to stop and learn to sharpen this hand saw and then cut up the tree by hand. By then I'll be sold out of spreaders and too far behind to catch up. So, decision made, I grabbed my big chainsaw. Thirty minutes and I'd be done, on to carving with my axe and knife. Then, the saw wouldn't crank. It needs a carburetor rebuild, fuel line and filter, spark plug and a general clean-up…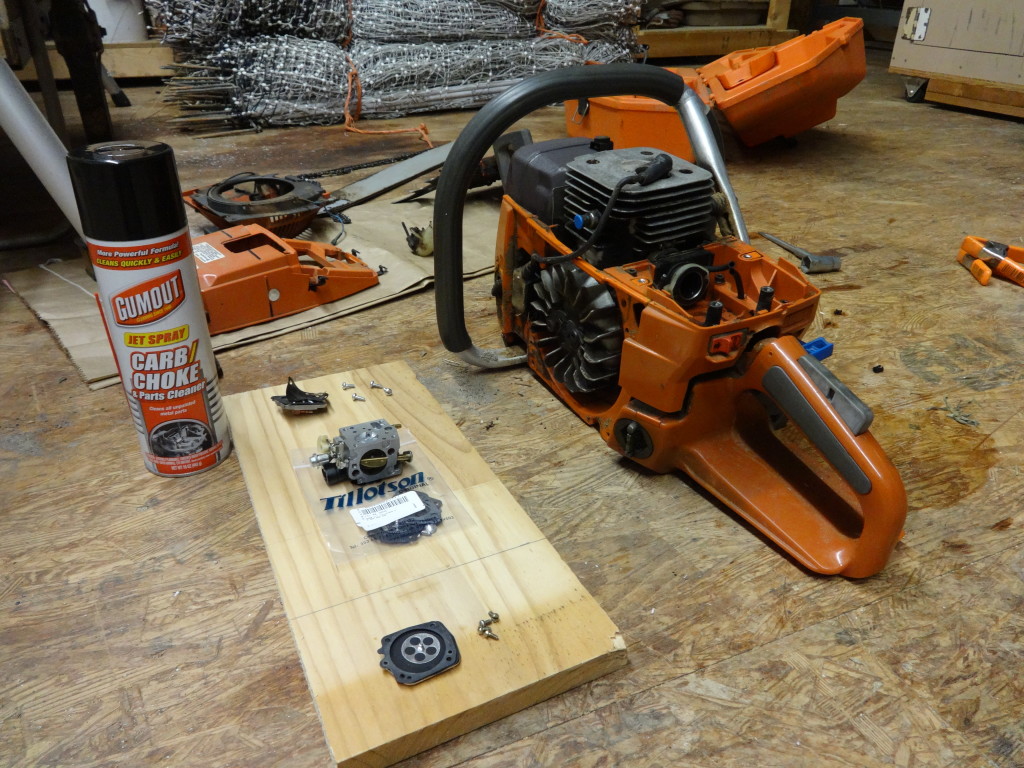 Actually, it's been giving me trouble for months because of the stupid ethanol gasoline our government is pumping my money into. Now I had to use the hand saw. But it's dull. Really dull. So the sustainable but slower option became even slower, and all I could do was get enough cuts made with the hand saw so that I could cut up the big pieces with my band saw in the shop – which runs on an electric motor which isn't really any more sustainable than petroleum, but my four hundred dollar hand saw was dull…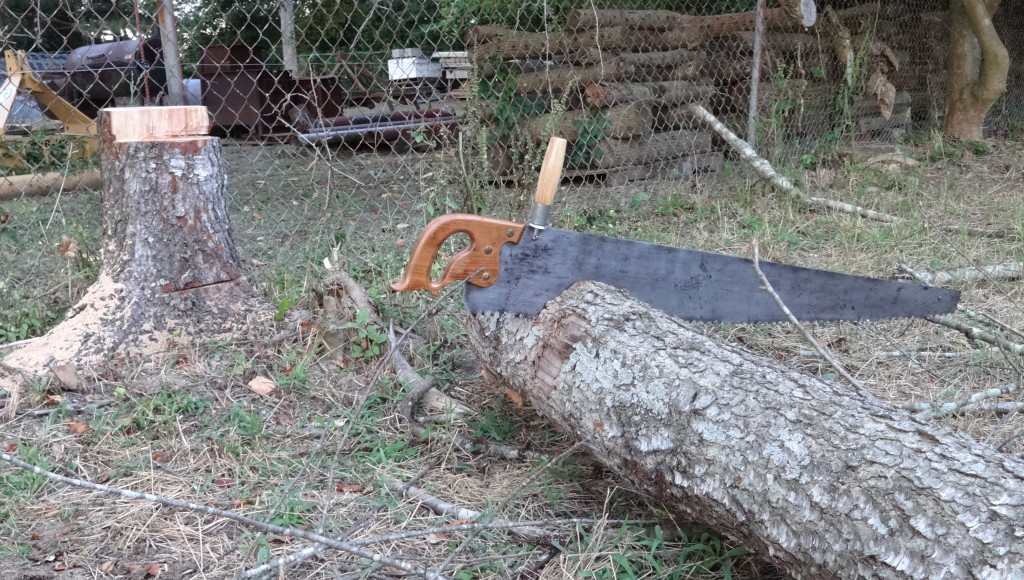 Do you see the predicament? I mean sure, who cares about the little bit of fuel a chainsaw eats up. My Ford farm truck has a 460 engine in it which drinks more gas than I care to think about, but going back to a mule-drawn wagon is beyond ridiculous in the suburbs of Atlanta. As a side note, the gentleman that gave me the crosscut saw also has a picture of the Marietta Square from the early 1900's, and the Square is piled full of mule-drawn wagons loaded down with cotton! So, what do we do in a world gone mad for speed? I love my hand tools; I love learning how to sharpen, use and maintain them, but they are painfully slow in light of chainsaws, weed-eaters, tractors, trucks and the like. I don't even mind that the hand tools are slow, or that they require sweat to operate, but eventually you run out of daylight to do enough work fast enough to pay the bills. And here's the two sticking points:
It's the taxes and burdensome laws that keep us from moving back completely to a sustainable way of life in this debt-laden country. Never-mind that no one wants to go back to doing everything by hand, but no one could afford to. We could spend our lives learning the skills we need to grow all our own food and build and make all the tools, furniture, etc. we need to live without a Chinese factory pumping out cheap goods for us. We could pull the plug on this unsustainable way of life with hard work and help from our Mighty God – but how can we do all of that and pay the exorbitant taxes the government demands (as Rush reminds us, at gunpoint!). If we have an economic crash tomorrow, like '29, we'll need to be self-sufficient overnight, but we won't be able to for the absurd level of taxes we're expected to pay. How's that for a problem?
The other obstacle is the expense of sustainability. Crosscut saws are all but obsolete today. I mean, I like hand tools and even I was taken aback that I needed as much money to sharpen a hand saw as I did to buy a new, smaller chainsaw. I mean, how do you justify that? I can't not own the chainsaw because I need to work on my farm at the speed that tractors, trucks and chainsaws allow me to work. But then to move towards sustainability I need to spend even more money on terribly slow hand tools?!
There's no clear cut answer to this problem, of course. In light of high taxes and hard to find tools, do we give up on the idea of human-powered, local-community driven sustainability? I say, No! I might not change the world, but my goal is just to quietly do what I can on our farm with my Daddy and my little boy. I can't get rid of my truck for that mule-drawn wagon today, but I saved my pennies and did manage to buy the tools to sharpen my crosscut saw. And maybe I'll have some time to learn to sharpen it soon, and I'll just use it when I can. Then, when that economic disaster hits, that saw may be mighty important for putting up a little firewood to keep my family warm this winter.
What are you doing about sustainability in your life?