My wife and I have been researching human powered machines. There's a dizzying array of gadgets that people have created from the crazy to the downright practical. Check out this device. And this one from Rock the Bike has to be my favorite (minus the price!). Old-timey, hand-cranked, pedal-powered, treadle-driven machines are quite fascinating.
I bought a post drill off of eBay this past winter and all I had managed to do since then was take it apart into a bunch of dirty pieces, but I've finally taken a little time on this project in the past couple of weeks. These are the pictures from the eBay ad, so this is the "before."
The drill was in good shape, just dirty, missing a handle and still had the original chuck.
A post drill was a blacksmith's tool or a general farm tool from the 1900's era. This guy has more info about post drills than you would probably care to read about. Essentially a post drill is a hand-cranked drill press (mounted on a post…), but it's geared pretty slow and was primarily used for drilling metal rather than wood. The mechanism to turn a crank, which turns a bevel gear, which turns another gear, which turns the drill shaft and a flywheel is pretty simple and straightforward. But if you're using one hand to crank the drill and the other hand to hold the workpiece, how do you advance the drill bit through the metal (or wood)? This is the fascinating part. They used a boss set at a cam on the main gear that the crank handle turns and this cam pushes a lever up and down and this moves an arm gently back and forth on another gear, advancing the drill bit downwards.
Well, that's probably clear as mud, so there's a video at the end of this post of the drill in operation!
But there's one problem with these old post drills. Well, that is if you can find one with all the correct parts and with nothing broken. Once you've got a functioning post drill, the chuck that holds the drill bits is a problem. It's an old fashioned blacksmith chuck that holds bits that are obsolete.
Enter Mr. Ken Hood. This is his shop on Powder Springs Road.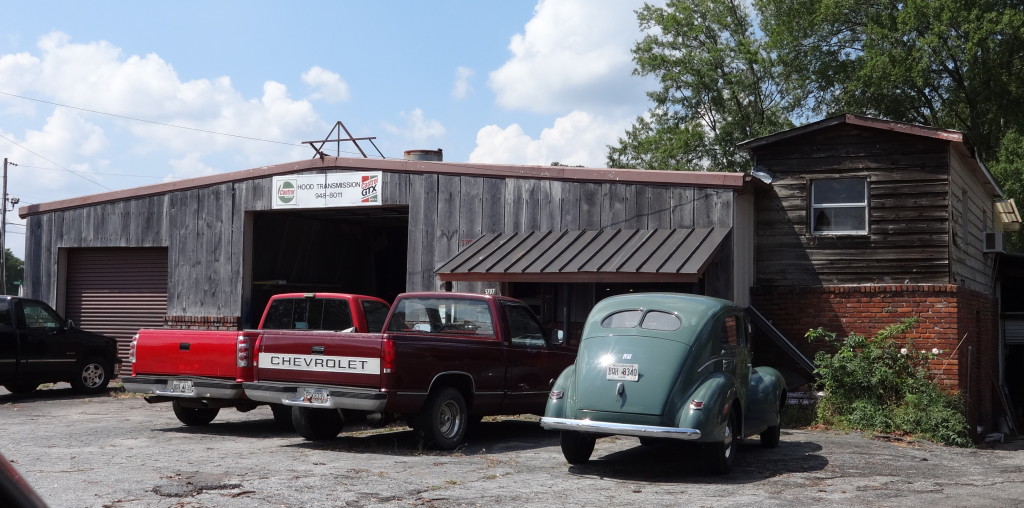 I know how to join two pieces of wood together in a variety of ways, but my metal working skills are limited to blowing something into rough pieces with a oxygen/acetylene torch, drilling and bolting together, or some crude buzz box welding. That doesn't help much when you need something accurate done!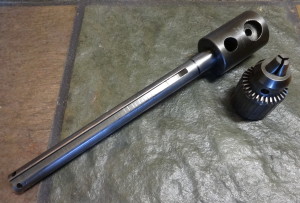 So I took a 3-jaw, modern Jacob's chuck off an old electric drill press and took the shaft and chuck out of the post drill and took the two pieces to Mr. Hood. Mr. Hood is quite the machinist and does everything from crankshaft grinding to rebuilding transmissions to making parts for old cars to, well, when I called him to ask him if he could fix my problem with the post drill he interrupted me and just said: "Anything is possible." That's the kind of guy I like!
Here's the new chuck mounted on the old shaft: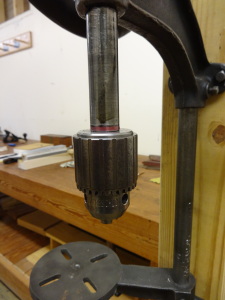 Fortunately for me, my part in this restoration was pretty simple. The drill was pretty dirty so I gave it a scrubbing with a wire wheel and wiped everything down with WD-40. A little oil on the gears and spinning shaft helped make turning the crank a lot easier. The handle on the top gear was missing so I made a new one. Then I mounted the drill to a backer board and mounted that to an old fence post. Now that Mr. Hood has finished his part, I've got a working post drill; check it out!
Sustainability's greatest detractor is this argument: "Well, if I can't live completely sustainable right now, for cheap and with minimal effort, then just forget the whole idea!" Rome wasn't built in a day and re-skilling our lives so we can live a little lighter on the land and learn to be in control of our own lives without worry of some outside disaster taking away our food supply isn't going to happen overnight.
Does your shop have a human-powered, hand-cranked drill press?! Does your city have country roads?
Thanks for reading everybody!