Guest post by Leah (Hammond) Warrak.  Leah helped work on the farm before marrying Tina's brother, Michael, four and a half years ago.  Pizza has always been a specialty of hers.
Who doesn't love pizza? There are endless options these days that a quick google search will yield for gluten free and grain free options. Cauliflower, zucchini, spaghetti squash, cheese, etc. all provide a base by which you can still enjoy that pizza without eating the unhealthy version that's in every freezer section of the grocery store. Sometimes, though, you want pizza you can pick up with your hand instead of eating with a fork. Sometimes you just need the chewiness and flavor that only a good bread dough can provide. Enter My Dad & Me Family Farm's Iron Skillet Bread Dough.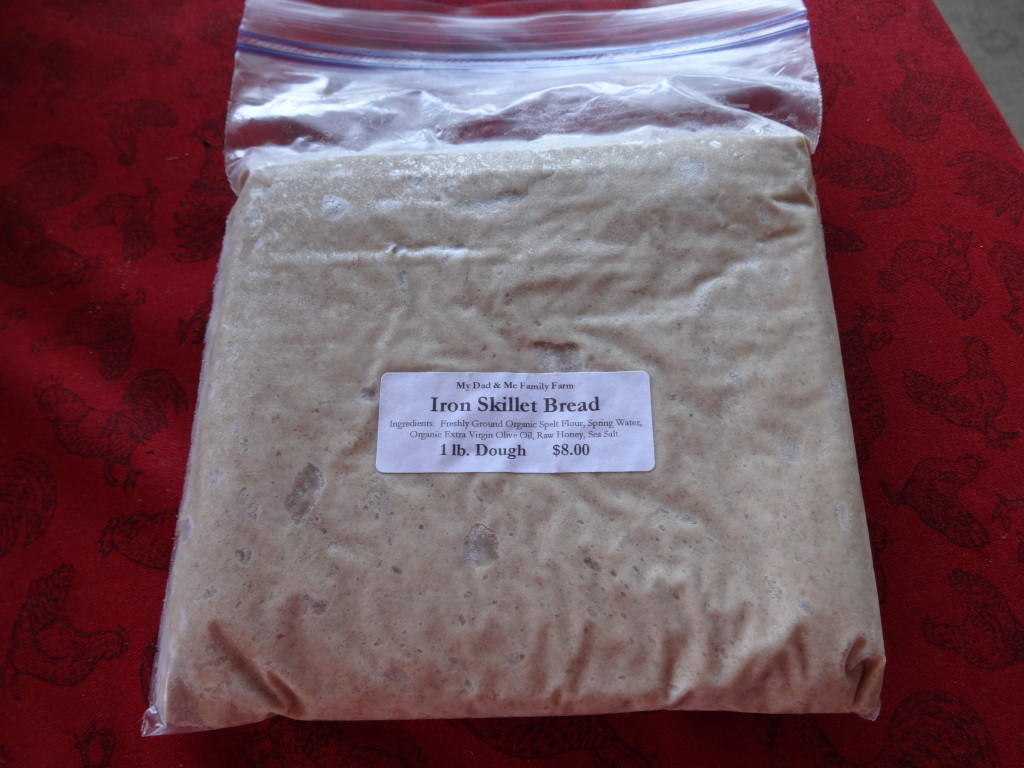 This delicious and nutritious sourdough in the freezer affords an amazing crust and a super quick meal. A few easy steps will give your family an easy Friday night pizza dinner without the toxic overload or the planning ahead!
Thaw your Iron Skillet Bread Dough for an hour or so. Then, dust your pizza pan with cornmeal, like the non-GMO cornmeal that you can pick up from My Dad & Me Family Farm. Take the thawed dough out of the bag and stretch onto your pan. I just used my hands, but you could also use a rolling pin. Next, bake your crust in a preheated 400 degree oven for about 10 minutes, or until it bubbles nicely. Now it's ready for all your yummy toppings!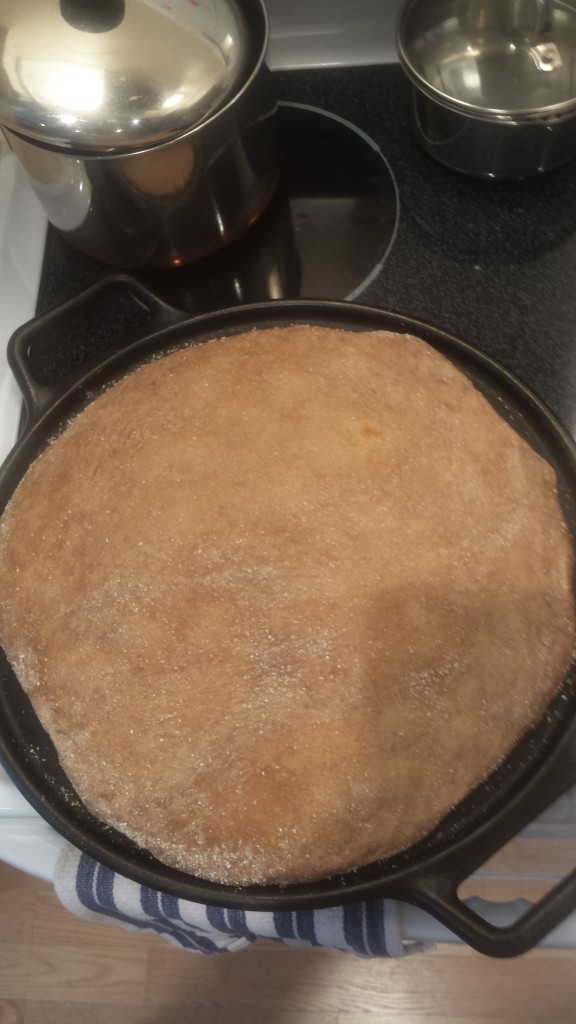 Our favorite sauce can be whipped up as fast as you can chop and saute your onion, especially if you have a jar of tomatoes ready that you canned from your summer garden. If not, fresh tomatoes from the farm will work well, too, just be sure to drop them in a pot of boiling water for a couple of minutes first so you can slip the skins off, then they are ready to go!
Simply dice your onion and cook in a cast iron skillet with a generous drizzle of olive oil, a large handful of fresh oregano, several garlic cloves, and a sprinkle of freshly ground pepper. When the onion is tender, put it in a blender along with your tomatoes and a dash of salt and blend until smooth enough for your liking. Now spread onto your pizza.
Cook your toppings. We used ground pork and ground beef this time, and a mixture of mozarella and italian parmona cheeses, all available at My Dad & Me Family Farm. The mozarella melts beautifully and the italian parmona adds the extra flavor needed to turn it up a notch. Then grind a little more black pepper on top and broil your pizza for a couple of minutes (watch closely!) and enjoy!
Now you have a quick and easy whole food pizza that you can enjoy guilt free. Eating healthy has never tasted better!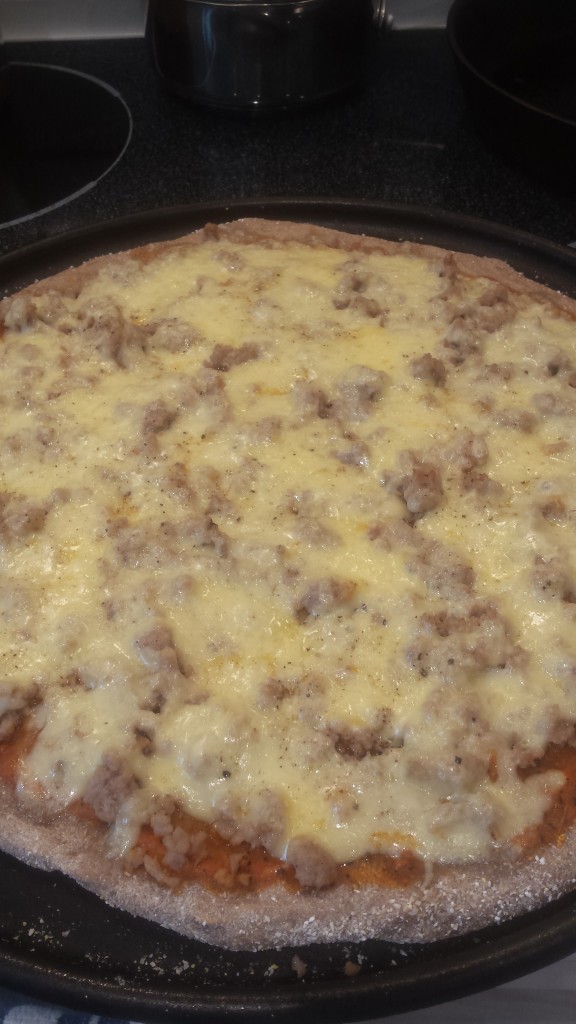 Sourdough Pizza (makes 2 pizzas)
2 lbs   Iron Skillet Bread Dough

2 lbs   Ground Pork or Beef or Sausage

1 pkg  Mozzarella Cheese

1 pkg  Italian Parmona Cheese
Pizza Sauce:
1 jar  Canned Tomatoes (I drained off part of the liquid)

             or 3 cups fresh tomatoes with skins removed

1        Onion, diced

4-6    Garlic cloves

1/4 cup   Olive Oil

6-8 sprigs   Fresh Oregano

Freshly ground Black Pepper

Salt to taste
Saute onion, garlic, oregano and black pepper in olive oil on low heat until onion is cooked through. Blend in blender with tomatoes and salt.
Bake your crust in a 400 degree oven for 10 mins. Spread with sauce, then meat, then cheeses. Crack black pepper on top and broil for a couple of minutes. Enjoy!